It hasn't been 72 hours and I'm still thinking about the Mets season that ended too soon.  I haven't had a chance to write that paragraph since 2008 which in baseball years is equivalent to forever.  So forgive me if I write this from the perspective of a 16 year old girl that just broke up with her boyfriend all too publicly and thinks her life is over.
Yes, life moves on.  Yes its only sports.  I get all that but at the same time, I don't.  When a baseball season ends, you're almost glad, right?  From February through September, its nearly 8 months of ups and downs that you can't possibly predict or pretend to not agonize over.  There will be stretches of absolute brutal play that will make you turn the game off in the 4th inning and want to sit outside and watch your wife garden without a cold one in your hand because you drank enough for two frat guys at a kegger in that four inning stretch that you're embarrassed to be this drunk at 3pm.
But here we are writing the epitaph of the 2015 Mets season and feeling strange.  The Mets opened up as 10/1 favorites to win the world series, tied with the Washington Nationals, the presumptive favorites heading into this past season.  That sentence alone is unbelievable to write because the Nationals spent $210 million to bolster a pitching staff already thought to be the best in the major leagues.  Yet, somehow the Mets not only beat them, they destroyed them from within.
One of many criticisms that I have as a Mets fan is that the ownership group, I lovingly call the Coupon family (real name Wilpons but ya know), is too cheap to keep a contender around for the long haul.  Somewhere along the line they will try to nickel and dime their way to a championship because they didn't want to pay the $7 fee to invest through Scottrade and instead decided to trust a guy named Bernie Madoff with their money and well, the rest is Ponzi history.  But now the stakes are different and we all know it.  Over the coming weeks, we will get into who the Mets should keep, should let walk, and who they should start the car, drive to the airport and make sure the plane took off before fist pumping.  Whether the Coupon family will bow to public sentiment is anyone's guess, but like any parental unit on a budget they will have to do some spending to keep the house in order.
However, today is the time to look over the season and digest it all because Lord knows Mets fans deserved a season like this.  Did the Mets deserve to win?  Sure says any Mets fan.  But in reality, they faced a better version of what everyone was convinced the Cubs were.  They faced a team with the heart of a champion and a team with some serious playoff chops.  They got beat by a better team.  Those are the facts no matter what any Mets fan wants to convince you of.
Sure you can talk yourself into the fact that the Mets had a lead in three of the four games they lost to the Royals but that would only be fooling yourself into a false narrative that the Mets were close to the Royals in the intangible department.  Wanna know how I know this as fact?  Think back to every single sick feeling you got when the Royals got to our bullpen, save game 1.  When was the first time you realized that Daniel Murphy stopped snorting the good stuff he was on during the first two rounds when he was a mix of 2002 Barry Bonds and 1926 Babe Ruth? The only surprise was game one.  Had the Mets won that first game and they had every chance to do so, this series may have swung in the Mets favor, but once Alex Gordon launched Familia's pitch into the center field stands and Familia had blown his first save of the playoffs, you knew as a Mets fan that this was a different beast the Mets were playing.
So let's forget that every Terry Collins move that worked in the first two series didn't seem to play to the same tune in the World Series because he wasn't facing a team with serious flaws that could be exposed.  Playoffs are oftentimes about match ups.  Once you beat a team at its own game, you can see the wall of confidence crumbling around them.  The Dodgers had the decided pitching advantage in the Division series because they could pitch Clayton Kershaw and Zack Greinke four times in five games.  But when the Mets beat Clayton Kershaw and Zack Greinke in two* out of the five games the math said that the Mets would win.
*= and it should've been over in 3 had it not been for that coward Chase Utley but let's not open that wound. That's a HBP for another day.
Jon Lester was a postseason veteran with experience and one could argue that Jake Arrieta was the best pitcher in all of baseball and the Cubs had the best under 25 positional talent in all of baseball and yet the Mets outhomered them and beat their two best pitchers en route to a sweep that even the most optimistic of Mets fans NEVER saw coming.  Surely we would, at best, beat the Cubs in 5 games.  But Daniel effing Murphy happened.
With 8 days to revel in their dominance, the Mets ran out of steam and gas that launched them into the playoffs.  From July 25th on, when they acquired Kelly Johnson and Juan Uribe, finally after fans and columnists had wasted countless calls to sports talk radio shows and typed thousands of words imploring the front office to get some help, the Mets seemed to take off.  From the moment Justin Upton launched a cruel 3 run home run to help the Padres beat the Mets in a new twisted way things changed.  Or maybe, and this is everyone's favorite version, from the time Wilmer Flores came out to play the field minutes after finding out what everyone else in the stadium seemed to know, that he had been tentatively traded along with Zack Wheeler to the Brewers for Carlos Gomez, wiping tears from his eyes because he was hurt being traded FROM the Mets.
Aside from Bret Saberhagen and Bobby Bonilla both of whom will be paid more than some of the Mets current crop of pitching beasts, nobody had ever been that open about loving the Mets.  Nobody.  And then Sandy Alderson for his next trick pulled a Yoenis Cespedes out of his hat and off they went.  From a team that could barely muster two runs to a juggernaut that couldn't be stopped the Mets blasted their way through August.  As luck would have it the first opponents for the Mets were the Nationals.  The Nationals had underachieved all season yet were trying to convince everyone that everything would be ok with the old "wait till Denard Span comes back- then watch out world."  Of course we had heard that line before.  The Nationals have had an excuse for every disappointment.  Who can forget sticking to their guns on Stephen Strassburg's innings limit and ruining their best chance at a deep run?  Who can forget lifting Jordan Zimmerman after 8 and 2/3 innings because well Matt Williams knows how baseball is played and we don't know shit.  
The Nationals always talked before the season about what they were going to do because they had the talent and deserved to be everyone's lead dog heading in, but there was always that championship DNA that was missing.  When the Mets had acquired the pieces to legitimately threaten the Nationals, you saw how far from the title the Nationals were.  Not only did the Mets sweep that first series in late July, they then went Labor Day weekend to Washington and soul punched the Nationals in three straight games, coming back each time in stunning fashion.
To be honest, when you look back at the Wilmer Flores game, that was so typical of the Mets.  They left Flores in the game clueless to the fact that we live in an age where information gets shared so quickly that of course the fans would find out before the player does that they were traded.  That's what the Mets do.  They fuck these things up.  Yet, it worked because of Flores' outward show of loyalty.  That was the first sign that this team was going to do amazing things.  When the Nationals took a 4-3 lead during the Labor day weekend series opener, with Max Scherzer on the mound, and the Mets mounted a stunning comeback, you kinda sorta knew but you didn't want to believe it.  When the Mets came back down 7-1 the following night you were almost there.  When they beat Strassburg to complete the sweep of the three game series, you knew this season was going to be special.
But that's how fandom is when you root for a baseball team.  The fear of failure and another lost season can flip on the dime.  We as fans are allowed to change our minds when it comes to our baseball team because the baseball season is so freaking long that its like watching the Christmas story marathon on TBS every Christmas.  You fall asleep to the movie and wake up and find yourself amazed that you are in the exact spot you left it and its still going.
The season had plenty of questionable decisions that we can point to in detail.  None more so than the he said, agent said, they said, controversy over Matt Harvey's innings limits.  Somehow the Mets again appeared to have public sentiment on their side after Harvey did damage to his tough guy, Dark Knight rep when he agreed with Scott Boras' poorly timed and executed public demand of cutting short Matt Harvey's workload a year removed from Tommy John.  In a case of curious Karma, it was Harvey's tough guy rep that again did him damage when he demanded the ball in the ninth inning and began the set of events that ultimately cost the Mets the game and the World Series.
This is all to say that while the season ended badly and from late April to late July was depressing as all hell (remember the days when John Mayberry Jr was our clean up hitter?), the Mets ultimately did enough in early April and from July 31'st on to make this season memorable.  In a slog of a 162 game season, the downs usually outnumber the ups when it comes to the Mets given their recent history.  But not this season.  For Mets fans it was the culmination of all the talk of promise they had heard.  We had heard about how the pitching staff would vault the Mets into contention.  They did.  The front office promised that once they were ready to contend they would make moves and increase payroll and they did.  Despite all the criticism we were told that once Terry Collins had a major league team to manage, he would manage it well and he did.
Everything we had heard or thought about, happened.  But then the Royals came and took it all away and left us Mets fans in a sea of disappointment.  When I stepped off a flight on Monday night, I got an alert from the Mets to relive the 2015 season and they were already talking us into the old "hey atleast we got there" talk.
But that's not what I wanted to hear.  This is what I wanted to hear:
This is what I wanted to see:
There's work to be done this offseason and like I said its still early.  But here's to the 2015 Mets.  They gave us moments of tension, of dominance, of history, of awesome comebacks and deflating failures.  Ultimately they went to the World Series and got beat by a better team that had an enormous chip on their shoulder after losing in Game 7 of last year's World Series.  But take hope Mets fans.  The pitching staff will come back no matter what Scott Boras threatens.  Michael Conforto will see actual at bats against lefties next year when he transitions to everyday player.  Jeurys Familia will be the closer and from the looks of it a damn good one.  We will be adding a fifth ace in Zack Wheeler in July.
So let's remember fondly Bartolo being Bartolo:
this tweet:
or this tweet:
Or that time the Mets made fans of even their biggest rivals.
Or that time the Captain made his return to the Mets in style.
Or the time that Cespedes just flexed on the Pirates Sean Rodriguez, 
Or that time Terry Collins hugged the fans after a huge Game 5 win against the Dodgers. 
Or the time Reuben Tejada caned in like Willis Reed into Citi Field 
Or that time that Flores became the most popular Met like in ever. 
Or that time the Mets soul punched their biggest rivals. 
Or the time Will from Queens called Mike Francesa and well, yeah.  
Or that time Daniel Murphy went insane in the playoffs.  
Or that time Jacob deGrom convinced Mets fans and baseball that he was the ace on the team during the All Star game.  
Or the time Steven Matz's grandfather lost his collective shit at just how good his grandson was.  
Or the time Noah Syndergaard took to his superhero nickname in an awesome way.  
Or everytime you stared into the outfield and you saw just a sea of orange clapping plastic thundersticks and cheering like crazy people.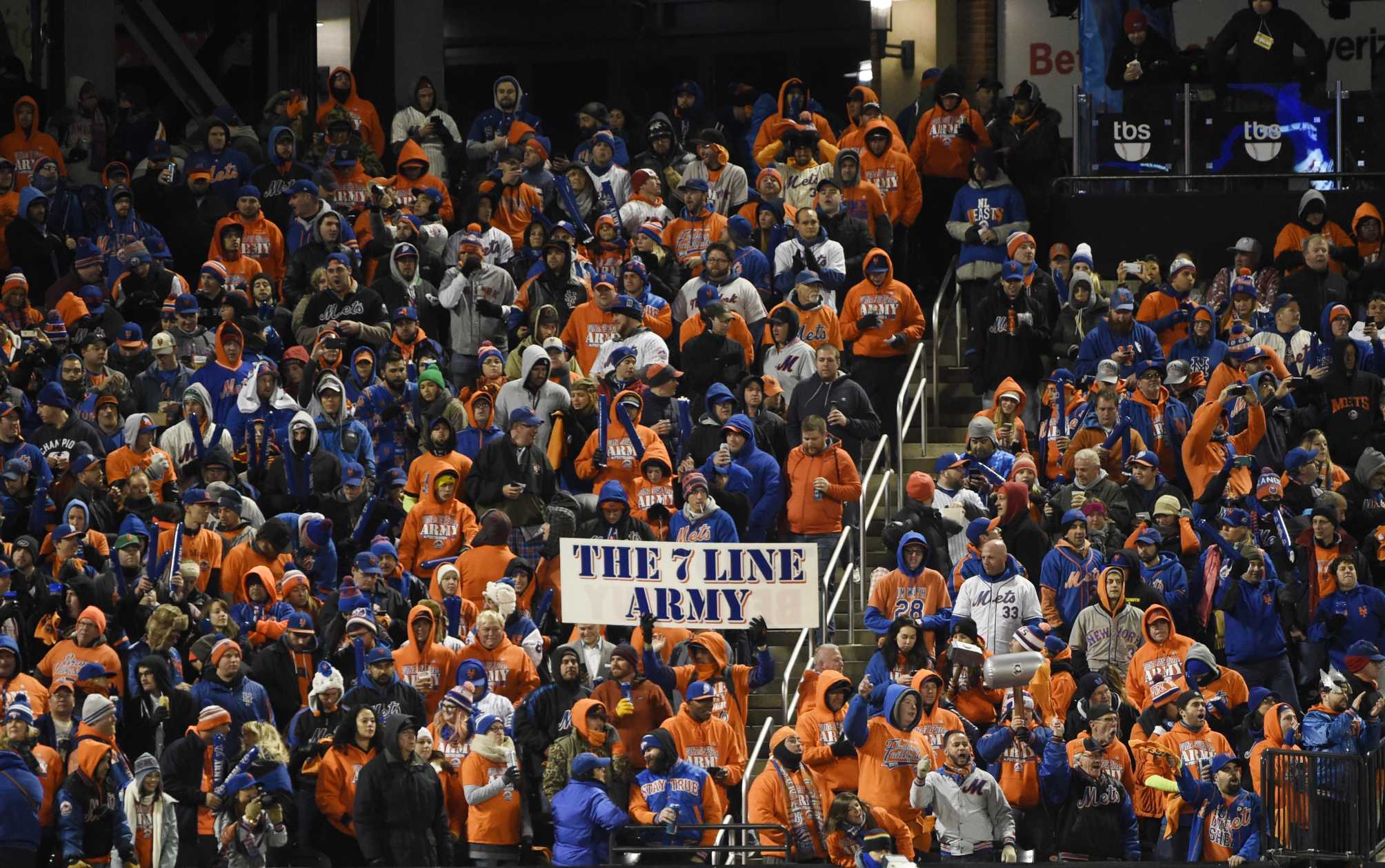 Or the time you had to follow a Met game on Twitter, refreshed your feed and saw this at the very top and the fear/disappointment that would ultimately follow:
Or the time that somebody else stood looking at strike three while we got to go to the World Series.  Carlos Beltran, you're finally off the hook (though its bullshit you ever were considering the..ok I'm over it)
Or the time you go back to back in a clinching game to completely take the home team out of it in the first inning:
But most importantly, here's to the future:
See you in Spring Training!
LETS GO METS!